Medical Alerts with Fall Detection
Most of us have grandparents, parents or an elderly neighbor and we know that a fall is dangerous for older adults. The CDC reports that falls for those 65 years of age and older are the leading cause of both fatal and non-fatal injuries. Statistics from Yale University School of Medicine show that one out of three older adults fall each year and the incidence of falls is increasing.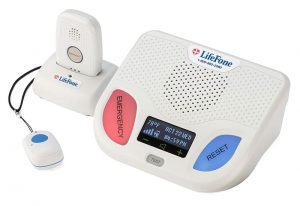 Seniors can be Hesitant to Accept Help
It's a fact that people don't always feel their age, or act it for that matter, and therefore don't feel that they are, quite honestly, a senior, and certainly not elderly. It's often difficult for individuals to realize that they have aged and may need assistance in different areas of their lives. Perhaps your loved one is losing their hearing, but resist hearing aids. Another example, as eyesight deteriorates, the loss of driving privileges may also become a reality. Other circumstances, such as falling, dizziness or more serious health concerns may require further attention.
A device as simple as a medical alert system can be so useful to your aging loved one. With this device, with a push of a button gives them access to an operator who can summon help in case of an emergency. The help can come from a neighbor, family member, or if need be, an ambulance. These systems also come with fall detection. Some seniors may be resistant to the use of a medical alert system with or without fall detection. Often times, they can be seen as a loss if independence, having to admit they are aging, realizing health concerns, or that they simply may be embarrassed to wear the pendant or necklace. Having the discussion with your loved one may be easy, so LifeFone offers some tips on how you can convince your loved one that it's time.
What are your Options?
When you've had the conversation with your loved one, and they believe that a medical alert with fall detection is the right choice for them, there are options available. Fall detection systems work on a motion principle that sends an alarm to the Care Specialists upon any abnormal, unpredictable movement, such as a sudden fall.
Medical alert systems with fall detection from LifeFone are available for protection in your home and on the go. Both of the systems come with the following features and benefits:
24/7 US-based monitoring
Easy installation – Just plug in the power cord
No cell phone service required (works with their cell phone service, not yours)
Waterproof, lightweight pendant
Up to 30 hours of back-up battery power
Base station provides lighted display with time, date and room temperature
Free Monitoring for Spouse
The on-the-go system also offers:
Mobile device charge of up to 24 hours which works while charging
Visual cellular strength notification for both the base station and mobile device
Seniors can be very conservative when it comes to spending their money. The nice thing is that we provide a full refund of unused, prepaid services with no contract requirement. This is not the case with all medical alert providers.