Get The Most From Your Medical Alert Service
You've made the final decision on a medical alert system and though it seems like a once-and-done decision, there are many ways you can ensure you are getting the most out of your service.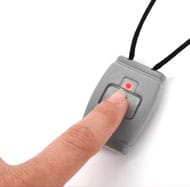 LifeFone offers these pointers on how to maximize your experience:
One of the most important things we encourage our subscribers to do once they install the system is to push the button as they move about the home. The goal is to ensure that the subscriber feels comfortable and is aware of the range of the system as well as how loud it is from various locations in the home. This simple step helps subscribers gain confidence in the medical alert system.
We also encourage subscribers to push the button once a month. We want customers to become comfortable using the system so that when an emergency occurs, they are confident and will push the button without hesitation.
When discussing the various options available to our subscribers, we also explain the value of accessories. A wall-mounted help button can be especially helpful when mounted a foot or so off the floor in strategic locations (bathrooms & bedrooms) in the event there is an emergency. We also suggest a lock box. In the event of an emergency, EMT's need to gain access to the home and a lock box permits them to enter without breaking down a door. Some choose to leave a key with a neighbor but if they aren't home, and even if they are, those extra minutes trying to access the key can be very important. The subscriber can choose a private code and give it to the Care Agents at LifeFone to provide to EMT's to save precious minutes
Lastly, if know someone else who could benefit from subscribing to LifeFone's Medical Alert System, ask your friend or relative to give us your name when they subscribe. For each new referred subscriber, we will give you a free month of service.
Above all, never forget that LifeFone's Customer Service is available 24/7 to help you with any questions you may have.