At Lifefone, our goal is to make sure that your loved one stays safe every day.  Like most, they too, want to get spring cleaning done. We've compiled a short list of six spring cleaning tips for seniors.
Always pre-plan. Often, folks may begin a project without really counting the cost of getting it done.  Planning the spring cleaning will help in the long run, and avoid undo stress and chaos.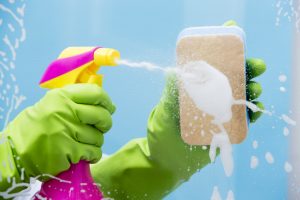 Having a list on-hand will helps to stay focused.  For instance, start with the kitchen, and plan how to get that done.  The refrigerator may take longer to do than the cabinets; a list will help prioritize those jobs. Encourage them to tackle the pile of papers on the desk also helps to keep them organized.
Monitor Your Smoke Alarm System, Fire Extinguisher and Emergency Kit. Since we have our parents, or neighbors in the swing of cleaning, now is a good time to make sure that their emergency items are fully charged, or stocked. If your loved one doesn't have these items, now is the perfect time to add them to the home.
Clean up the clutter.  De-cluttering will keep everyone safer.  Small appliances that aren't used daily can be stored away, eliminating additional electrical cords. Perhaps they are a lover of magazines and/or newspapers, and a result is they are now piled next to the chair or couch.  Cleaning up those piles can reduce the risk of trips and falls. Along with that, maintaining clear walkways in every part of their home or apartment should be a priority. You might want to consider a medical alert system with fall detection in the event a fall does occur.
Ladders and step-stools. As independent as we know our loved ones want to be, it's very important to make sure that they can physically use a small ladder or step-stool.  If not, getting the help of a family member is the best option.
Their medicine cabinet. This is so important.  Making sure that all their medication is properly stored, and that anything that has been expired is thrown away not only reduces clutter, but, also cuts down on the risk of taking the wrong medication.
This list is certainly not exhaustive, but, we know it will help keep your loved ones home clean and inviting.