Are you wondering how you are going to care for your pet as you age in place? This guide will help you decide on the best choice for you. At LifeFone, we have a few suggestions on pet ownership and aging in place.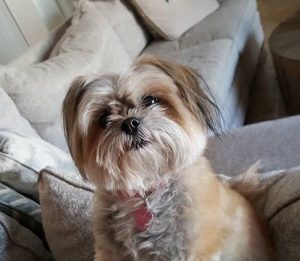 Studies have shown that owning a pet can be physically and mentally beneficial for people of all ages. In the case of older adults, fifteen minutes of bonding with an animal sets off a chemical chain reaction in the brain. It helps to lower the levels of cortisol, and increase the production of serotonin. The result is a reduction in heart rate, blood pressure and stress level.
Loneliness can become an unwelcome companion as we get older and can lead to depression as well as physical problems. Dogs mold their schedule and personality to you. They are always available, and never off duty. Having to take a dog for a walk is a great way to get out of the house and get some exercise which is not only good for you, but, also for Fido.
There are many shared activities for pet owners, ranging from communal walks and dog parks to events and projects run by organizations that cater to animals and their environment. Sometimes it can be hard to meet new people, and pets seem to be a great ice breaker.
Having a dog or cat is a responsibility that doesn't have to be taxing. The routine of caring for a pet can give structure and purpose to daily life. Perhaps you really don't feel like getting out of bed, but your pet would like to eat and go for a walk, and isn't that a good thing?
Consider getting an older dog. Puppies and kittens are fun and cute, but tend to be more high maintenance. An older pet is generally calmer and requires less maintenance.
If you are an older adult with disabilities and you are aging in place, a service dog might be the ticket for you. Service dogs are those trained to do work directly related to a person's disability. Along with your medical alert system from LifeFone, a service dog could help you stay at home even longer.
If you are mostly immobile, a cat may be the best option because you don't have to walk them. A small dog that uses pee pads may also be a good option.
A dog can offer an extra level of protection. Potential thieves will stay away from a home with a barking dog. An alarm system can be shut off, but a thief can't shut off your barking dog. Your pooch may only weigh twelve pounds soaking wet, but the person on the other side of the door doesn't know that.
These are just a few of the many benefits of owning a pet as you age in place. As you consider getting either a cat or dog, look at local animal rescue facilities, you may just find the perfect pet there.