Ten Important Questions To Ask A Medical Alert Company
There is no doubt there are many medical alert system providers available, and as with all services, there are some that are clearly better than others. Below is a list of questions you should ask any medical alert company when calling to inquire about purchasing such a device: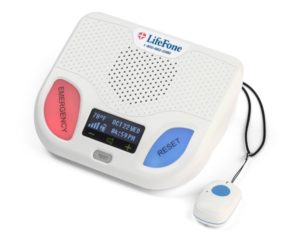 Q. Does your system require a landline?
A. Technology has advanced in recent years, as have medical alert systems. While connecting your system to a landline is by far the most secure and reliable way, as you don't need to rely on cell towers, companies now also provide systems that use 3G/4G service. In most cases, the system uses the providers Cellular service, not your own. Therefore, be sure to ask if the cellular service they use is reliable and strong in their specific area.
Q. Is there a contract?
A. Most companies should provide you with a service agreement that clearly states the terms and conditions of their service. This is different from a contract. Be sure to ask if there is a contract for a service stating how long you must pay for the equipment once you are a subscriber. Some companies will provide a full refund for unused, prepaid service should you have to cancel while other companies provide no refund at all. LifeFone offers a 30 day money back guarantee and a refund of any unused prepaid service should you cancel.
Q. How much does the system cost?
A. Companies generally offer several payment plans with a cost saving when you pay for a longer period of time. As mentioned regarding the contract above, ask about refund policies in the event you need to cancel.
Q. How are you rated with the BBB?
A. Be sure to work with a company that has a strong BBB rating and verify what you are told. Legitimate companies do not make RoboCalls promising a free medical alert system. If you get a RoboCall, report it to the BBB and do not give out any personal information.
Q. Do you automatically send an ambulance when I push the button or my fall detector activates an alarm?
A. This is important because many times, a subscriber does not need an ambulance. Perhaps the subscriber simply needs help getting up and would simply need a neighbor or family member to come lend a hand. Determine the provider's process in this situation, and if the response plan can be customized.
Q. What is your refund policy?
A. Your system should come with a risk-free trial. Further, knowing that needs change over time, there should be a refund policy that covers you in case you need to cancel your service.