Connecting with your aging parents through technology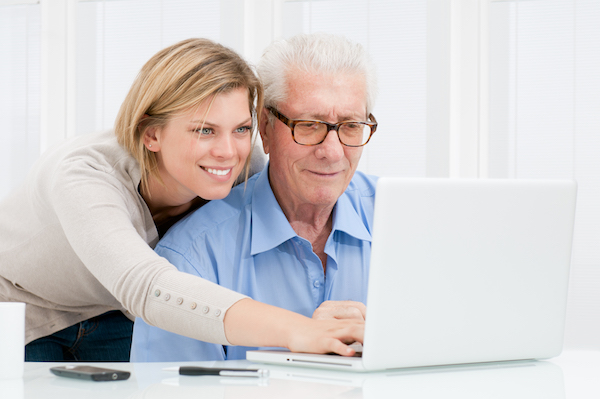 An increasing number of baby boomers are almost done raising their children, but are not done with caregiving as they're turning their attentions to taking care of their aging parents. One way that this has become easier is that many of the baby boomers' parents are more tech savvy than in generations past. Technology is one way that you can stay in touch with your parents when traveling to their home isn't an option because of work or family responsibilities.
Many boomers find that setting their parents up with a computer helps them stay more connected. With options like camera's, email and online video communication, there's no reason for your parents to feel left out. Setting up a daily web chat or checking in through daily emails can help you stay in touch without being in the same physical proximity. Knowing that there should be a daily email or web chat can offer both you, and your parents' peace of mind. As a way to add a more personal touch, you can plan for a live video (web chat) during dinner. This is especially helpful if they live alone. If you and your parent or parents plan to "eat dinner together" a few times a week, it can break up the loneliness and also offer a unique way for the family to stay in touch. Additionally, having a live web dinner chat can assure you that your loved one is eating healthy meals.
Another way is via a blog page or family social media pages. A blog page as a way to share photos between family members and to keep your elderly relatives involved in what's going on with the children and grandchildren. You can upload photos and brief blurbs of what is happening in everyone's lives. If your relatives aren't tech savvy the caregiver can spend some time with them getting them online and letting them read what's going on in the family.
Social media pages are also great, free, ways to stay in touch. You can set up a private group within Facebook and it can be a spot (in case you don't want to set up a blog) where photos can be uploaded, and you can share status updates with the family. It's a great, all in one location, in which everyone can interact.
Equipping your aging parents' home with a home medical alert system from LifeFone adds to the peace of mind. A home medical alert system also allows individuals to stay in their homes for a much longer time because you'll know that if they fall or get injured, they can activate the medical alert button and help will be dispatched. While you may frequently take trips to your parents' home to check on them, run errands and take care of household chores, the installation of a home medical alert system lets you know that between trips, your parents are being continually monitored and that help is only a button push away.