There is nothing as peaceful as getting out on the open water, dropping a fishing line and catching breakfast or dinner, right? We agree. There are, however, unexpected things that could come up that might make you wish for a connection to the "outside world."

What could constitute a fishing emergency? Here are a few items: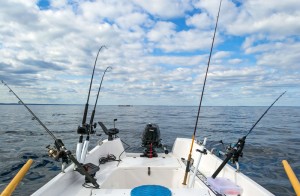 Your boat motor could run out of water
The oars could fall into the water
Someone in your fishing party could suffer a health emergency
A storm could unexpectedly blow through and throw you off course
No matter where you live or how calm the waters are where you fish, safety should always be top of mind.
There are many mobile apps available to fishermen and they include:
Global positioning system (GPS) apps. These are useful to help you navigate to and from the shore – especially helpful if you can't see the shoreline.
An app called The Fisher Friend, which will sound a beep if your fishing boat drifts within five kilometers of an international boundary. This app also provides local weather, potential fishing zones and other safety information.
The LifeFone Family Guard™. This mobile app provides the benefits of a LifeFone Mobile Alert™ - a personal panic button that you can assign to your cell phone or a family member plusthe ability to monitor real-time locations for up to three family members. It provides added peace of mind by giving you arrival alerts for your loved ones.
You can certainly enjoy your quiet time out on the water, while providing your family with peace of mind knowing that if you need assistance in an emergency or if they need to get in touch with you, that they can.