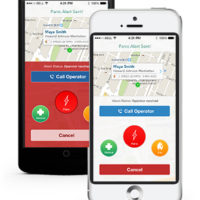 Safety is a concern for individuals of all ages. Walking down the street, shopping in a mall, working alone at night, the morning run before work - all of these situations can leave us vulnerable! Thanks to smartphone technology and gps tracking, there are ways to increase your safety and security in threatening situations where you might need emergency help.
One of the latest ways to add to your personal safety and security stems from the partnership between LifeFone and SmartTek Systems. Together, they created two very useful mobile apps that you may find are perfect for you or your family.
This app is perfect for the individual. In the event you are concerned and want (or need) assistance you simply push the button on the app and you're connected to LifeFone's call center.  The trained operator will verify your location and dispatch assistance. An excellent feature of this app is they will assist you whether or not you are able to communicate directly with them. They will have an audio connection to you once you activate the app so you don't need to speak to get help! It's like having a virtual escort service.
Family Guard is perfect for working parents and caregivers. This app is the ultimate family tracking and monitoring device which can be easily configured to match your family's needs.
For adults and children old enough to understand when and how to use a panic button, you may choose to upgrade your account to give the people you are tracking the added protection of their own personal panic button on their smartphone app. Not only will you be able to locate your family members, each individual can feel safer when away from home.
Think this isn't for you? Here is a list of those we think could benefit from one of LifeFone's apps:
Latch-key kids
Runners and bikers
Those who work alone or work nights
Caregivers
Real Estate Agents
Home health aides
College students
Women who live alone
Those who vacation alone or travel on business
The list is really endless as safety is a concern for everyone. If you think you might benefit from these apps, we invite you to contact LifeFone at 1.800.882.2280 to learn more.