As we celebrate National Farm and Ranch Safety and Health Week, September 18-24 we take time to consider those who work the fields and raise the produce and food that graces our dinner tables.
The agriculture industry in the United States represents close to 15% of the nation's economy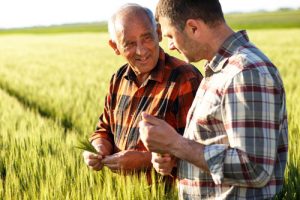 and is a central part of the country's prosperity. At the center of the agricultural industry are those dedicated farmers and ranchers who work to produce food at a level of efficiency and quality.
In some ways, the agriculture industry is among the most critical industries in the nation, but its reliability, productivity and even the farmers' safety are sometimes taken for granted. Farmers and ranchers continually face challenges from the weather, safety dangers from the animals and equipment with which they work every day and exposure to chemicals. In 1999, there were 770 deaths, 150,000 disabling injuries and many of the victims were children or young adults who were killed in farm accidents that could have been prevented.
While progress has been made in developing technologies that make the farm equipment safer, there are still steps that need to be taken. Safety equipment includes:
1. Bypass starter covers
2. Roll-over protective structures
3. Safety equipment features for tractors
4. Hearing protection devices
5. Awareness of the need for sunscreen and sun protection
6. Personal protective equipment to reduce hazards and exposure to farm and ranch chemicals
Farmers and ranchers are aware of the need for safety measures and have been working to keep their family and employees safer.
One way to enhance the safety of workers in the fields is through the use of the Family Guard mobile app from LifeFone. This app allows family members to be able to keep track of where other family and workers are. The app makes it easy for a worker to obtain assistance at the push of a button. In the event of an emergency, time is of the essence and even trying to remember to dial 9-1-1 could be a challenge. The Family Guard app is a one-push lifeline to assistance.